Every. dang. day.
But seriously, do you ever go through stages where you feel bleh and want to paperbag your face? I do. I just look in the mirror and it's like Ham Porter is right behind me saying, "If my dog were as ugly as you, I'd shave it's butt and tell it to walk backwards."
I started reading a new blog a few months ago.
The Honeybee
. This woman is everything I want to look like and dress like. Although, my MoMo undies and saggy mom breasts probably wouldn't go well with most of her outfits. (I don't even feel like breasts is an accurate description of my boobs anymore. Breasts just sounds too sexy. Floppy chest ornaments? Hmmm, too long. I'll think of something. But just know for a fact that I would fit right in with those naked ladies in National Geographic these days.) Seriously, look at her post baby body! Um, do I sound obsessed? She might need to get a restraining order on me.
One night after perusing her blog I literally googled "lip injections". Then, I found out that they are way expensive and don't always have the best looking or most long lasting results. So, I looked on YouTube for a tutorial on "how to make your lips appear fuller." And, I stumbled upon a drag queens video on how he/she makes his/her lips more womanly. Haha! I was so uncomfortable. And then, I died laughing. What the heck is wrong with me?
Anyway, I concluded that all us creatures with lady parts (and some without according to that YouTube video I couldn't stop watching) just want to feel pretty. And while I can only afford pretty at drug store prices (with the occasional splurge) I thought I would share my favorite things BEAUTY.
Burt's Bees Tinted Lip Balm
This is a new one for me, but it's been love at first lip smack. I have absolutely no pigment to my lips. We are talking Zombie lips! Therefore, my lips get hammered from wearing lipstick all of the time. I was desperate for something healing, with a little color and this is the ticket. I have the "Rose" shade. It's perfect and natural looking. "Just a kiss of color"! MUAH!
Maybelline Color Tatoo Eye Shadow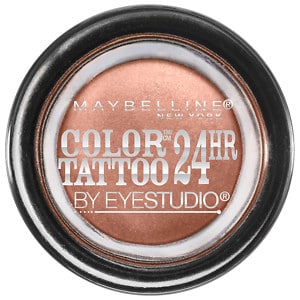 If you use a light hand this is an excellent base. Your eyelids butt cracks (creases) don't show up ALL the live long DAY.
MAC Eye Kohl Eyeliner in Teddy
This is my splurge and has been my go to eyeliner for about the past 7 or 8ish years. Plus a pencil can last me a little over a year, so I consider it justified. I owe my introduction to this beauty to my mother. She has a HUGE slight makeup obsession. It is described on their website as an "intense bronze". (Really MAC? You make a bajillions of moneys and you can't find someone better to write your eyeliner descriptions?) This is actually a rich brown with a hint of deep plum and gold shimmer. Glides on like butter. If I had one item of makeup to take to my grave this would be it.
And, I'm ALWAYS ALWAYS ALWAYS on the hunt for a great mascara. I usually stick to L'oreal (they have some great ones!), but I was hearing amazeballs things about this Revlon mascara, so I tried it and it is ever so wonderful! Pick up a tube, you won't regret it! Unless you're a dude. Then, just disregard this entire post. UNLESS you're the drag queen whose movie I watched, then you go for it girl! ... (guy?)